Clark Gardens Hours of Operation
In case of inclement weather, please call ahead to be sure we are open. 940-682-4856
The hours of operation are strictly enforced. Guests are expected to observe those hours. Garden gates are locked at 5:00 pm.
Summer & Winter Seasons
Garden Members: During the "Summer and Winter Seasons," Clark Gardens members may access the Gardens year-round by calling ahead to the business office. This option is valid for Clark Garden Members only. This option is not valid for AHS reciprocating memberships. Garden membership information.
Please call the business office during normal business hours to schedule an appointment.
Business Office
Monday-Friday (year-round excluding holidays)
8:00 am – 5:00 pm
940-682-4856
OPEN SEASON (No appointment necessary.)

Dates:
March 1, 2023 through July 2, 2023
September 1, 2023 through November 26, 2023
Times:
Monday-Saturday: 8:00 am to 5:00 pm
Sunday: 10:00 am to 5:00 pm
SUMMER & WINTER SEASONS
- By Appointment Only, Excluding Private Events & Festivals -

July 3, 2023 through August 31, 2023
November 27, 2023 through February 29, 2024
Private Events - Including Weddings and Receptions
Private events, including weddings and receptions, are available for scheduling year-round. Please contact the business office to schedule your event, and your pre-event tour of the Gardens. See more information about Private Events.
During private events and weddings certain areas of the garden will be off limits. Please observe the signs marking these areas.
Annual Memberships
Membership allows unlimited visits to the Park for one year from the date of purchase. Read more about Clark Gardens memberships...
Bad Weather Note
Clark Gardens may close during inclement weather, including icy conditions. If bad weather is in the area, please call ahead to be sure we are open. 940-682-4856
General Admission Fee
$10.00 per adult
$8.00 per senior (65 and over)
$5.00 per child (4 to 12 years of age)
Free admission for children 3 years of age and under
* Should you visit the Park and not find the attendant in the admissions booth, please use the "Honor Box" located on the front of the booth. All funds are used to maintain the Park for your enjoyment.
Festival Admission Fee
Festival admission fees vary by festival.
No guest passes are accepted.
No senior discounts.
American Horticulture Society (AHS) reciprocation memberships are not honored at festivals.
AHS Reciprocal Admissions Program
Clark Gardens is a participating garden in the American Horticultural Society (AHS) Reciprocal Admissions Program. Visit our AHS Reciprocal Admissions Program Policy page for details.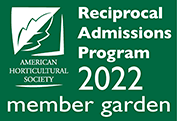 Dog Policy
Dogs are welcome to tour the gardens, at no additional charge. Dogs must be with their owner and on a leash at all times. Please pick up after your pet too.
Handicap Accessibility
Most all areas of the gardens are handicap accessible. We do not have wheelchairs available anymore.
Garden Tours
Garden Tours during Summer & Winter Seasons for non-Clark Gardens Members may be made by prior arrangement based on staffing availability. Please schedule your tour with the business office.
Tour groups may reserve pavilions in advance. Non-tour garden guest may not use these pavilions during the allotted reservation time. Group Garden Tour information.
Motorized Cart Tours
Motorized cart tours are available by prepaid reservation only. See all the details about motorized cart tours.
G-Scale Model Train Operating Schedule
The G-Scale Model Trains run seasonally during our open season: Labor Day weekend through Thanksgiving weekend; and the first weekend in March through July 4th weekend. Trains do not run during rain.

Model Train Running Hours
Monday-Saturday 10:00 am to 4:00 pm and Sunday 10:30 am to 4:00 pm.
Trains do not run during rain.
Please do not allow children to climb on or touch any of the G-Scale Model Trains or tracks.
Proper Attire for Gardens
Garden guests are encouraged to wear closed toe shoes. The garden is home to spiders, insects, wild animals and snakes. We encourage caution while walking through the garden.
Photography
Visit the photography page for guidelines, etiquette, and to purchase a commercial photography pass.
Map & Directions
[ Click here to view an interactive map ]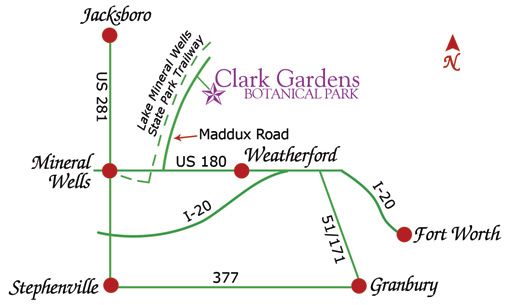 Clark Gardens is 3 miles east of Mineral Wells, Texas and 1 mile north of Highway 180. From Highway 180, turn north on Maddux Road and go approximately 1 mile. The entrance to Clark Gardens will be on the right/east side of the road.

Clark Gardens Botanical Park is approximately 45 minutes from Fort Worth, Granbury, Stephenville and Jacksboro; and 15 minutes from Weatherford.