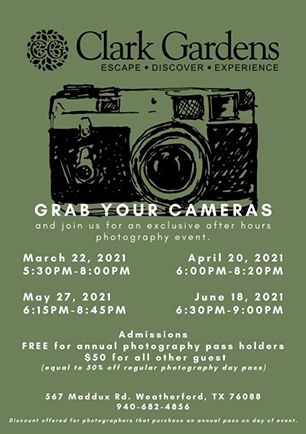 The after hours photography session dates and times are:
March 22nd, 5:30 pm - 8:00 pm
April 20th, 6:00 pm - 8:20 pm
May 27th, 6:15 pm - 8:45 pm
June 18th, 6:30 pm - 9:00 pm
You've been requesting, and we've been listening. This spring, Clark Gardens will be opening its gates up, after hours, to photographers. Afterhours access allows for that perfect Golden Hour shot. Admission per photographer is $50 an evening.
Photographers may bring clients as they please, but no dressing room access will be available. Lastly, upon arrival, all photographers must check-in at the admissions booth.
Member Perks: Annual photography pass holders will receive free admissions and three discounted tickets ($25) to share with other photographer professionals. Pass holders cannot offer their discounted tickets to the same professional more than once.
Extra Deals: Annual photography passes purchased within the event's time-frame will receive a 30% discount, normally priced at $250.
Our team is thrilled to see all of your stunning work. Don't forget to tag @clarkgardens and @clarkgardenswedding. Reach out to our Director of Events with any questions at or 940-682-4856, ext 2.