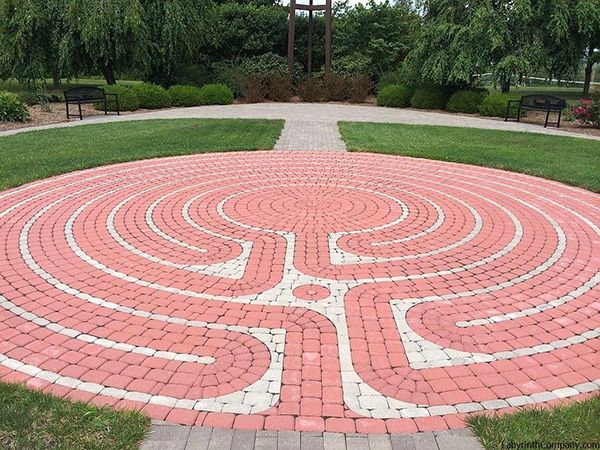 above: An image representing the style of labyrinth to be chosen for Clark Gardens.
Dear Friends,
As Max and Billie Clark built the Garden, they poured their hearts, souls, and money into the endeavor. Their legacy is an inspirational botanical garden. For the past 21 years, guests have come to relax, take in nature and leave their hectic lives behind them, if just for a while. Our guests come from all walks of life and from all over the world. They have described the Garden as peaceful, tranquil, and beautiful.
Managing a privately funded garden is very challenging. We rely on donors, members, and grants to provide the Garden's funding, along with our earned income from events, admissions, and sales. Clark Gardens does not receive government funding - not from the county, the city, nor the state.
We can't do this alone. Clark Gardens is aspiring to implement a labyrinth in the garden. Turn the page to learn additional details and find out how you can help. We need your support!
Sincerely,
Carol Clark Montgomery
WHAT HAS HAPPENED IN 2020 & 2021
What a whirlwind the last few years have been.
Covid-19 affected many. For Clark Gardens, the pandemic resulted in reduced admission booth hours and guided tour availability, many rescheduled private events, and decreased venue sales. The decrease in venue sales was a significant financial hit to Clark Gardens, as this is one of our largest revenue streams. On a high note, due to people looking for a safe social distancing outdoor activity, our foot traffic saw a slight increase – even welcoming many new faces. Our team was overwhelmed with joy to provide a safe escape during this confusing time.
In the fall of 2020, Clark Gardens was hit by hogs. This was a new challenge to our team, as we had no experience with this situation. By December 2020, hogs had made their way through the entire garden. Grass was up-rooted and drip line systems had been ruined, just to name a few of the major noticeable damages.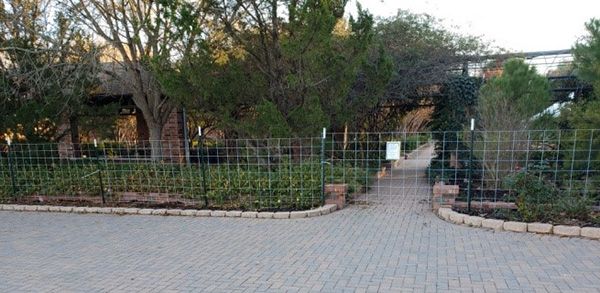 While working through a solution, hog paneling (picture above) was placed around the Channel Gardens and Bowling Green. The paneling was temporary until the hog situation was under control and allowed our team to repair the damage done in this area. Meanwhile, a trapping company was contracted to remove the animals from the property.
In the end, around 32 hogs were relocated. In January 2021, our team saw the light at the end of the tunnel. The hog situation seemed to be under control, and our gardening team was working hard to repair damages and preparing to open up for the spring season.
As luck would have it, once everything was in tip-top shape, a massive freeze hit Texas. Clark Gardens was fortunate to have few plumbing issues, but even with the precaution of covering plants, many did not make it through the harsh conditions. To come back from the freeze, Clark Gardens placed its largest plant order in well over 13 years! Though the freeze was months ago, our team is still learning how it affected the plants.
We have had some struggles to overcome these past two years, but there have also been great improvements. Some exciting improvements include adding drip lines throughout the garden, repainting the children's playhouse, repairing the bike racks near admissions, and adding a sign at the start of the bike trail located between the main entrance and parking lot.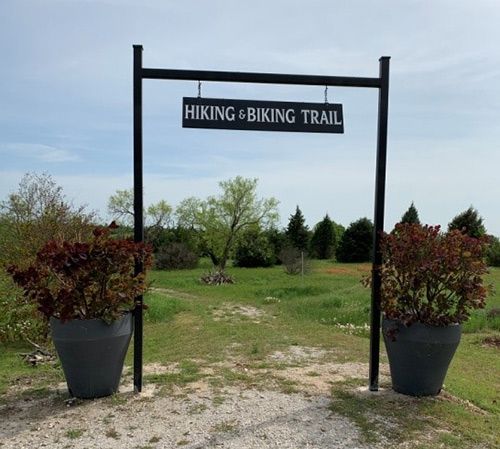 One of the most noticeable changes is the renovated main entrance. This project was able to be completed thanks to the Brazos Foundation 2020 grant and Wesley & Maureen Johnson's donation. It is a crisp, clean look with overgrown shrubs cleared out, new plants added in, new gate lights, the addition of solar lights throughout the flower beds, two beautiful water fountains, and new logo banners.
The herb garden is also being transitioned into a cutting garden, and the Iris Boulevard is harvesting pumpkins in the fall. There have also been many public events offered – from after-hour date nights to our annual Model Train Show.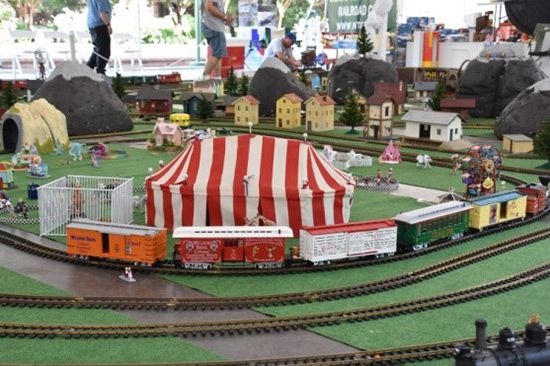 above: Clark Gardens Model Train Show
WHAT IS TO COME
With the help of your generous contribution, Clark Gardens hopes to implement a 7-circuit round classical paver labyrinth. This addition would be open to guests in the Historic Tree Trail area of the property. The labyrinth at Clark Gardens will invite guests to spend time in this natural setting and engage in physical movement. The labyrinth will be ADA compliant and, therefore, will open the labyrinth up to people of any physical mobility.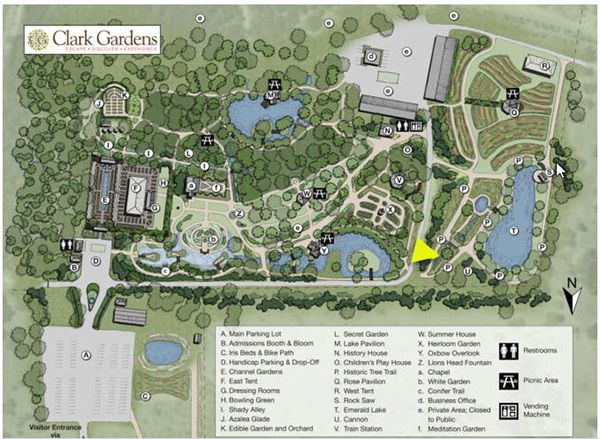 above: The yellow triangle marks the location of the future labyrinth.
Installing a labyrinth within the gardens aligns with our mission, of striving to keep a healthy community through nature-based possibilities and education. Labyrinths offer many health benefits: mindfulness meditation, aid in finding balance, time for self-reflection, providing a creative boost, helping in stress reduction, reducing insomnia, and many other long-term health benefits.
Roughly five months ago, Clark Gardens partnered with Bridgette Goldstein of Arid Spirit, a local spiritual director and energy healer, with the intent to establish a labyrinth within the gardens.
A group called The Keepers of the Labyrinth has been put together. This is a group of energy workers, spiritual directors, healthcare workers, and more who have graciously accepted the invitation to share in keeping the labyrinth filled with high vibe energy, prayers, love, healing, and peace for all those who would walk its path.
The total cost of this project is $28,000. Today we have raised $15,760.24, with $15,000 of that being a 2021 grant from The Brazos Foundation.
Your donation will make double the impact. Generous garden members, Wesley & Maureen Johnson, have kindly agreed to match the first $2,000 donated. Act now to double your gift!
TOGETHER
Together we can help connect people with plants, engage our visitors and inspire our guests to value plants, gardens and natural habitats.
Your support of Clark Gardens, a 501c3, is 100% tax deductible.
We've made it easy for you to DONATE NOW ONLINE.


SO MANY REASONS: Is it the joy on your children's or grandchildren's faces as they discover the G Scale Model Trains? Or is it the way history comes alive on the historical tree trail? Maybe it's the pure moment of calm and tranquility as you enjoy Oxbow Lake and watch the wildlife. Or as you sit quietly reflecting in the Chapel. Perhaps it's a good laugh shared with old friends as you walk together through the iris beds. Whatever your reason for loving Clark Gardens, it's the generous support of friends, like you, that make it all possible.
CLARK GARDENS IS GRATEFUL FOR EVERY CONTRIBUTION
Are you looking to give in another way? If so, consider annual giving, planned giving, or donating to the Max E. Clark Education Fund. However you choose to give, your gift will enable and strengthen Clark Gardens' ability to achieve excellence.
DID YOU KNOW
MEMBERSHIP! Members allow Clark Gardens to fulfill its mission. They inspire us. They push us to be better. Individual members spread the word about Clark Gardens, increasing visitation. Memberships have benefits for members too. Members may enjoy Clark Gardens year-round, admission free (even in the off-season); they are included in exclusive members-only events and enjoy perks at over 250 other botanical gardens. But, most importantly, our members share with us a mutual commitment to Clark Gardens, striving to see Clark Gardens as a lasting institution for generations to come.
DONORS! Clark Gardens earned income makes up about 1/3 of the revenue needed to maintain the gardens. The other 2/3's must come from donors—individuals, community groups, foundations, and grants. If you are interested in seeing Clark Gardens continue to thrive, please consider donating. Donations may be designated to a particular project, or an area of Clark Gardens may be named in honor of a loved one. You may donate directly to the education fund. Purchase a bench or a tree to honor a milestone birthday or the birth of a new grandbaby.
VOLUNTEERS! The future of Clark Gardens is dependent on increasing the number of volunteers. Due to economic constraints, we have cut our staff by half in the past ten years. We need volunteers who love roses, daylilies, or irises to help maintain our collections. We need youth groups, scouting groups, and community organizations to volunteer their time maintaining specific areas of Clark Gardens.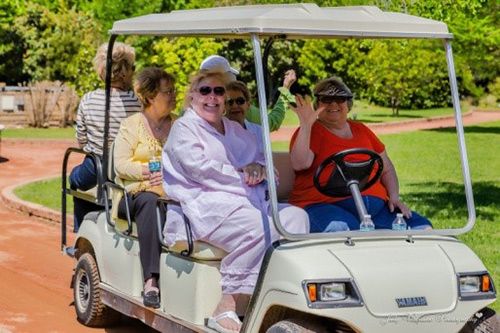 If you have as little as 4 hours a week, we can use your help. Our volunteers are amazing, so you'll be in good company! There are many volunteer opportunities:
Working in the gift shop
Education program help
Driving cart tours
Running the trains
VACATION RENTALS! Clark Gardens offers vacation rental options. Enjoy a stay at Clark Gardens for a little peace and relaxation. Bring the family or take time for just you. We have both the Retreat and Cottage available for rent. The Retreat is a two-story home with a pool and hot tub, sleeping a total of 10 guests! The Cottage is a charming newly remodeled 1,600 square feet just a few steps away from the garden pathways, sleeping a total of 6 guests. Both homes are fully furnished with kitchen appliances, living furniture, grill, TV, and toiletries. As a guest of each home, you can come and go in Clark Gardens as you please. Check out additional details regarding these properties on Airbnb.
Are you looking to do some camping instead? We have you covered! Clark Gardens is now on Hipcamp, offering a location for self-contained RVs and tent campers.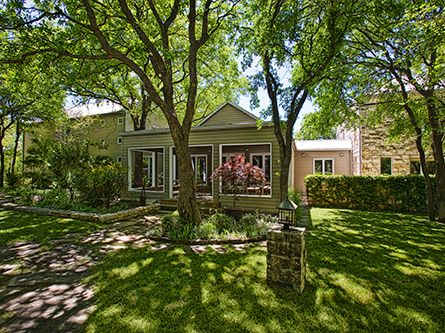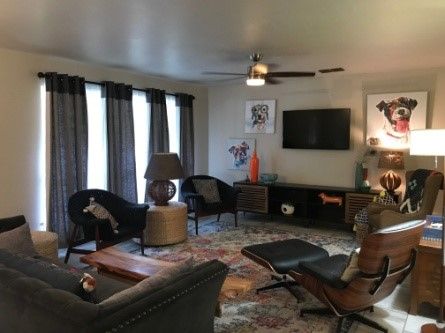 above: The Retreat and The Cottage, respectively.