Some Garden Highlights & Videos
Hours of Operation
In an effort to be a good steward of the environment, conserve natural water resources and reduce the amount of water used Clark Gardens is adopting seasonal hours of operation. Please see the Admission & Hours page for details.
If no attendant is on duty please use the Honor Box for Admission Fees.
Bad Weather Note
Clark Gardens may close during inclement weather, including icy conditions. If bad weather is in the area, please call ahead to be sure we are open. 940-682-4856
Spectacular Gardens
Through every season of the year, nature's glorious displays provide unsurpassed beauty. These spectacular gardens have been featured on HGTV's "Great American Gardens" in addition to numerous magazines, newspapers and other publications.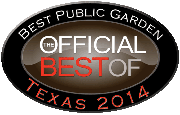 Clark Gardens was selected as the Official Best Public Garden in Texas for 2014 and featured in a TV segment about the Gardens airing on 3 different networks. The Official Best Of also created the following short video preview about Clark Gardens.
G-Scale Garden Model Trains
Visitors of all ages delight in the spectacle of three different G-scale model garden trains on 700 feet of track that meander through a landscape of natural vegetation, trestles and small streams. Paths weave under seven foot high willow trestles next to a six foot waterfall and over little bridges in the Garden Train area. "Clark Station" house incredible towns of scaled-down building made of plant materials such as poppy seeds, acorns, grapevine tendrils, cinnamon sticks and pinecone scales.
This marvelous area is an on-going project with additions made often.
The G-Scale Model Trains run seasonally during our open season: Labor Day weekend through Thanksgiving weekend; and the first weekend in March through July 4th weekend.
Historic Tree Trail
The 100 historic trees that line the trails surrounding Emerald Lake, are the genuine offspring of the original historical trees that bore witness to the lives and events that shaped our nation.
Each tree was grown from the seed or cutting of the actual historical tree and has a certificate of authenticity. Clark Gardens Botanical Park purchased the trees from American Forest's Historic Tree Nursery, which has been protecting, preserving and propagating historic trees since 1875. In addition to the areas of trees from presidents, famous people and famous places, the Historic Tree Trail includes a Civil War section with a replica of a Civil War canon. Visitors can stroll down these different trails and read the fascinating stories associated with each tree.
The Love of Iris
Clark Gardens is a nationally recognized iris garden. With close to 4,000 different varieties, each April the Gardens become a sea of colors to delight visitors. Steven L. Chamblee wrote a wonderful article for the March-April 2013 edition of Neil Sperry's Gardens magazine, about Clark Gardens founder, Max Clark. The article is appropriately titled, "

Magic Max and the Love of Iris."