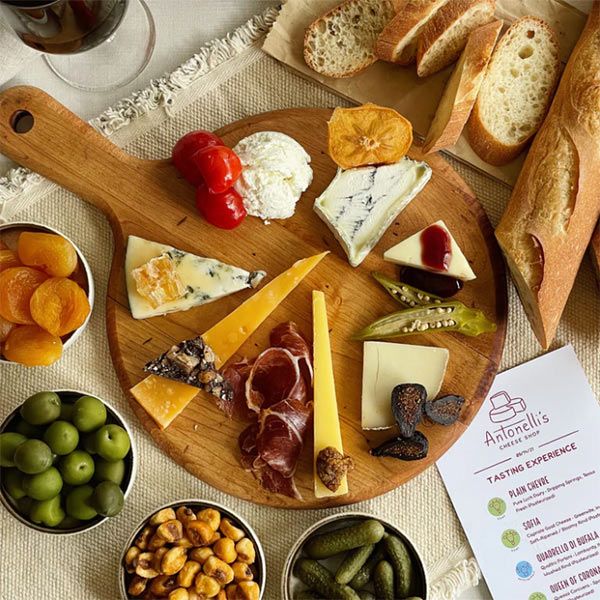 Get tickets to attend February 25th or 26th Cheese Class at Clark Gardens, lead by the Do Good. Eat Good. Antonelli's Cheese Shop based out of Austin.
Each "Cheese 101" class takes place from 2:00 pm to 4:00 pm.

Antonelli's Cheese Shop's flagship class, "Cheese 101" is a brilliant way to get to know the "7 Styles of Cheese." This thrilling & educational experience spans 1.5 hours of structured tasting & education time, followed by a half-hour of social time to enjoy the gardens. This class will guide you through all seven styles of cheese, allowing you to taste curated artisan selections of each – all thoughtfully paired with selections from Antonelli's wide array of sundries (like chocolates, pickles, preserves & honey!). From "Mild to Wild," this is always a fun ride!
Antonelli's Cheese Shop is internationally known for curating some of the world's best cheeses, cured meats, and accompaniments. Named one of the best cheese shops in America by Travel + Leisure Magazine, the mom and pop cheese shop is currently featured in Capital One's small business commercial, generating over 9 billion impressions and counting. This event will be led by founder Kendall Antonelli, a Certified Cheese Professional and Introductory Sommelier. Don't miss out! Most of their events are in the Central Texas region, and Kendall (Max Clark's Granddaughter) is coming home to lead this North Texas tasting at the gardens where she was raised.
Don't forget this class is BYOB. One ticket equals admission & serving for one person. Expect the event to last two hours.