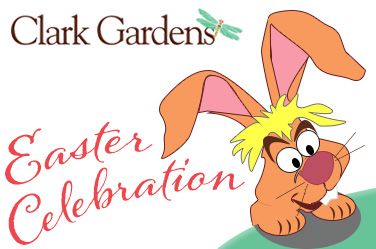 Join Clark Gardens for an Easter HOPportunity
Clark Gardens will host family-friendly Easter activities Saturday, April 4th, 2015, from 10:00 am to noon, and a community-wide sunrise service Sunday, April 5th, 2015 at 7:00 am.
These events will take place, rain or shine.
Easter Sunrise Service, Sunday, April 5th, 7:00 am
On Sunday, the sunrise service will take place at 7:00 am. The service, hosted by the Mineral Wells Area Ministerial Alliance, will be held in a covered pavilion with garden gates opening at 6:30 am. Admission for the sunrise service is free and open to the public. Following the service, guests are invited to enjoy the gardens until 9:30 am at no charge.
Saturday Activities April 4th, 10:00 am - Noon
Easter Egg Hunt and Celebration admission fees include a visit with the Easter Bunny (take a selfie!); crafts for children; entertainment and Easter Egg Hunt. A food truck is available for purchase of food items.
Children are divided into four age groups for the Easter Egg Hunt and will hunt in timed groups:
2 and under (11:00 am)
3-4 years old (11:10 am)
5-7 years old (11:20 am)
8-11 years old (11:30 am)
Children 12 and older are not allowed to participate in the hunt.
Adults may accompany children 4 and under during the hunt but may NOT pick up the eggs. Children 5 and older must hunt alone supervised by accompanying adult from sidewalk. No exceptions allowed. No adult may pick up eggs.
Children are encouraged to bring their own basket.
Pre-purchased children's reservations are required.
Only 300 children tickets will be sold.
More Event Information
All Children's tickets must be prepurchased.
Free admission passes will not be accepted for Easter Egg Hunt and Celebration activities.
No AHS Reciprocal Memberships are honored for the Easter Egg Hunt and Celebration.
Entry to the Easter Egg Hunt and Celebration require armbands that will be distributed the day of the event at the Garden Admissions Booth.
General Garden guests not accompanying a child to the Easter Egg Hunt and Celebration may not attend the festivities and will not receive an armband.
There is no limit to the number of adults accompanying a child.
Ticket Information
Sale of tickets opens March 9th, 2015 and closes April 1st, 2015, at 5:00 pm or when 300 children tickets are sold, whichever comes first.
Tickets may be purchased on line, in person at the Garden Admissions Booth (before April 1st), or via telephone at 940.682.4856.
No tickets are sold after April 1, 2015.
Tickets will be mailed and must be presented on the day of the Easter Egg Hunt at the Garden Admissions Booth.
Armbands will be distributed at the Admissions Booth.
No children tickets for the Easter Egg Hunt and Celebration will be sold at the gate.
General admission prices are available for those not participating in the activities.
Admission Prices
Adults: $9.00 (regular admission fee) May be purchased at the door or prepurchased with Children's Tickets.
Children: $7.00 (includes admission fee and hunt—all children regardless of age must have a ticket to participate in the hunt).
Clark Gardens Members: Adults No Charge.
Clark Gardens Members Children participating in the hunt: $5.00
Online Ticket Purchase for Saturday, April 4th Easter Egg Hunt & Celebration
Select tickets below.
For Children tickets, enter the age(s) of those who will participate in the Easter Egg Hunt in the appropriate field below.
Your phone number will only be used to contact you about this order, if necessary.
Use the View Cart button to change quantities or when you are ready to check out.