Clark Gardens is a non-profit organization. Donations are tax deductible. Thank you for your support.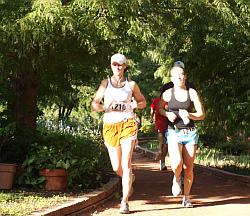 2012 year marks the Sixth Annual Remembering Vietnam: 8-Hour Run From the Ducks
Saturday, September 29, 2012 - 7:00 am
Sponsored by Clark Gardens Botanical Park
Run From the Ducks is an eight-hour timed event that is run on a 1.08 mile loop through Clark Gardens Botanical Park. Most of the course is either fine gravel or grass. All proceeds go to benefit the National Vietnam War Museum.
Click here to register for Run From The Ducks!


Race registration can be done at edsregistration.com or by downloading the race entry form on this website and mailing it to Tony Mathison, 305 Hogle Street, Weatherford, TX 76086. Entry fee is $65.00. Race day registration is allowed.
The gates to Clark Gardens will open at 5:30 a.m. Runners will be allowed to drive back to the start/finish area to unload and will be able to park in a parking lot close to the start/finish area.
The race committee and the race director take pride in being consistent with four traditional features of this race:
To bring awareness of the sacrifice and service of the Vietnam Era US Troops.
We start the race at a line drawn in the dirt.
Every runner is recognized during the Awards Ceremony.
This is the most scenic ultra-run race course in Texas and one of the most scenic in the US (if you like flowers).
Cash prizes courtesy of Clark Gardens will be awarded for 1st , 2nd and 3rd places in both male and female divisions.
The aid station will be fully stocked with water, sports drinks, soda and the usual array of chips, crackers, candy, fruit and sandwiches. You can bring your own cooler with ice and drinks to supplement the aid station if you wish. Runners can set up their own area along the course.
For more information, contact Tony or Carolyn Mathison at 325-320-8779 or email at mortonfan@hotmail.com or carolynmathison@yahoo.com.