Note: New Hours
Clark Gardens is a non-profit organization. Donations are tax deductible. Thank you for your support.
Holiday Festival 2013
Fridays & Saturdays
December 13th, 14th, 20th & 21st
5:00 pm - 9:00 pm each night

Stroll through light display
Santa
Live Reindeer
Entertainment
Hayride
Snow to throw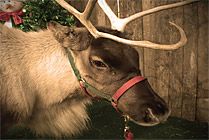 The park will be decked out for the holidays, lit with thousands of sparkling lights, and a 30-foot tree of lights. Both children and adults enjoy the hayride, the photo opportunity with Santa, a visit with Santa's reindeer, entertainment, the beauty of the Kaleidoscope of Trees and a tour of the Clark Depot housing the G-Scale Trains. Children can enjoy crafts, snow to throw and a weenie roast.
A professional photographer is available for family photos or bring your own camer to capture priceless holiday memories.
Experience the spirit of cheer as you and your loved ones stroll through the gardens, reconnecting with the beauty of nature on a winter night, sipping on hot chocolate or coffee. Along the way you might even find your inner child-excitedly anticipating the holidays. Bring your family for this true holiday experience.
If the weather is icy, or if unsafe conditions exist, the Holiday Festival for that given night will be canceled.
PLEASE CALL 940-682-4856 OR CHECK THE WEBSITE HERE to see if the Holiday Festival will be open.
[Refresh your browser screen to be sure you see the latest information.]
Friday, December 20th, Holiday Festival is: OPEN - JOIN US
Saturday, December 21st, Holiday Festival is: OPEN - JOIN US
In the event of cold weather alone (without ice), the entertainment will take place in the heated East Tent.
ENTERTAINMENT
December 13th - Beat Dance Factory Dancers
December 14th - Stan Crawford, Adam Hull, and Mineral Wells High School Wranglerettes
December 20th - to be announced
December 21st - Gary Gibson and Johnny Holliday
ADMISSION FEES
$10.00/adult
$5.00/child

Free admission tickets are available at the Chicken Express Restaurants (while supplies last) in the following communities: Burleson, Cedar Hill, Duncanville, Ennis, Granbury, Joshua, Mansfield, Midlothian, Mineral Wells, Waxahachie, Weatherford, and Willow Park.

All free admission passes from Chicken Express, regardless of date, will be accepted at all four December Holiday Festival events.