Clark Gardens is a non-profit organization. Donations are tax deductible. Thank you for your support.
Fall Festival and Half Marathon
North Texas' Spiciest Festival!

October 5th, 2012 - 8:00 am to 6:00 pm
The Fall Festival comes to life featuring music, dance and food from chili lovin' cultures. The festival is day full of fun, activities and entertainment for the whole family.
The day's activities and events include:
Children's Activities
Food and Beverages
Salsa Tasting
Plant Sales
Hay Ride
Native Plant Walk
The run is at 8:00 am. The chili cook-off, children's activities, vendor plaza and entertainment takes place noon to 6:00 pm. The Rotel & the Hot Tomatoes concert begins at 7:00 pm
Each year on the first weekend of October, Clark Gardens comes alive. Scarecrows greet Garden visitors as they stroll down Scarecrow Alley. Pumpkins of all sizes and shapes line the pathways, beautiful fall mums and fall asters bloom abundantly. Come, celebrate the fall season in the Gardens as we host our annual Fall Festival, the Spiciest Festival Around.
Festival activities kick off at 8:00 am on Saturday, October 6th with the annual Half Marathon and 5K presented by Palo Pinto General Hospital. Runners and walkers enjoy the scenic countryside of North Central Texas and the trails of Clark Gardens competing for cash prizes and beautifully hand-crafted trophies. See more on the half marathon and 5K, including registration and prizes...
The festival officially opens at noon. Clark Gardens Spiciest Festival Around sports a chili cook-off, music, food and entertainment highlighting Texas' chili lovin' cultures, salsa tasting, a children's activity area complete with clowns, games and face painting and a vendor promenade. Guests can tour the gardens on an old fashioned hay ride.
Vendors proudly display their wares as music plays from the tent. Chili contestants dish out their top secret concoctions, competing more for the bragging rights than the prizes, and each sure that their chili is the best.
On display in the History House are the photographic works of area photographers. Each has been entered in the 4th Annual Clark Garden Photo Contest vying for cash prizes and the coveted People's Choice Award.
There will ge a great afternoon of entertainment.
Andrew Boyer: 1 pm - 3 pm
Ballet Folkloric de Ft Worth: 3 pm - 4 pm
Pearl Street Four: 4 pm - 6 pm
Rotel and the Hot Tomatoes - Concert at 7:00 pm
The festival concludes with the music of Rotel and the Hot Tomatoes. Rotel and the Hot Tomatoes perform at 7:00 pm. Named by Harper's Bazaar as one of the top ten party bands in the United States, their show is guaranteed to bring down the house; capturing the looks, sounds and fun of the 50's, 60's, 70's, and 80's. Festival goers will dance and party the evening away.
2012 Chili Cook-Off
Date: Saturday, October 6, 2012
Starting Time: Noon
Location: East Tent at Clark Gardens
Judging takes place at 4:00 pm
Proceeds benefit the outdoor education programs at Clark Gardens.
Compete in the Chili Cook-Off!
Do you have a secret recipe for chili? Enter the Chili Cook-Off... or better yet challenge your neighbor to enter and settle the 'best chili' contest once and for all.
Registration must be complete by Saturday, September 15, 2012. Contestants may have a maximum of 2 persons per team, complete the registration form , and pay the $15 registration fee. See the Chili Cook-Off Rules for all the details.
[
The Chili Cook-Off Registration Form ]
Chili Cook-Off Prizes
Cash prizes and awards will be given for 1st, 2nd, and 3rd place, and for peoples' choice.
1st place - $100
2nd place - $75
3rd place - $50
People's Choice - $50
Eat & Vote for Your Favorite Chili!
$1.50 for a bowl of chili. Bowls are sold at the door for general visitors.
$1.50 to vote for your favorite chili to win the people's choice award.
The Chili Cook-Off proceeds benefit the Clark Gardens outdoor educational programs.
[
The awesome Chili Cook-Off flyer! ]

Chili Lovin' Scarecrow Alley & Contest
Clark Gardens Botanical Park invites you to participate in our second annual Scarecrow Alley and competition!
Grab your friends, coworkers, church groups and family members to create the best "Chili Lovin" Scarecrow this side of the Mississippi! We provide the frame and you provide the fun.
All Scarecrows submissions will be judged at the 2012 Spiciest Festival Around, on October 6th and showcased at Clark Gardens throughout the month of October.
Cash Prizes will be given to 1st ($100.00), 2nd ($50.00), and 3rd ($25.00) place winners. A trophy will be awarded to the People's Choice scarecrow.
[
Scarecrow Alley Contest Rules & Tips ]
[
Scarecrow Alley Contest Registration Form ]
Half Marathon and 5K Walk/Run presented by Palo Pinto General Hospital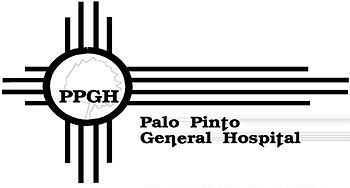 The race starts at 8:00 am. Proceeds benefit Clark Gardens outdoor education programs.
2012 marks the 4th year of the annual half marathon and 5K run/walk at Clark Gardens.·The run starts and finishes in Clark Gardens. The race is on paved paths winding through beautiful tree lined paths both in Clark Gardens and on the Rails to Trails.
See the half marathon and 5K race information...
Vendor Plaza - Shopping Opportunities
You will find a wide variety of items in the Vendor Plaza. You will find items for the garden, the home, clothing, art, information for the health-conscious, and all sorts of tasty foods to try.
[ Interested in having a booth in Vendor Plaza?
See the vendor registration form. ]

Tour the Gardens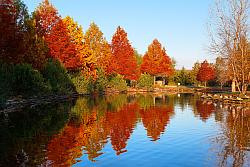 Fall is a beautiful time of year to enjoy the magical 35 acres of winding paths through stands of trees, gardens of roses and Texas native and adaptable plants. Meander through to view the waterfalls, lakes and lily ponds with geese and swans, G-scale model trains on 1,200 feet of track, along with a miniature world of historic towns.·

General Admission
General admission includes festival admission and/or admission to the 7:00 pm concert. This is a standing room ticket for the concert.

$10 adult
$5 children (5-12 years old)
Children 4 and under free
Reserved table seat at the 7:00 pm concert is an additional $15 per person.
No rainy day passes or reciprocal memberships honored at Festivals.
Purchase of Reserved Seating Online has CLOSED
For Rotel and the Hot Tomatoes Concert at 7:00 pm
Limited, reserved seating is available for the 7:00 pm concert.
Reservation tickets include general admission to the Fall Festival for the day.
$25 per person for reserved seat.
$200 per reserved table of 10.
Presenting Sponsor


Palo Pinto General Hospital


Silver Sponsors




Individual Sponsors

Simms Lumber
of Mineral Wells