Note: New Hours
Clark Gardens is a non-profit organization. Donations are tax deductible. Thank you for your support.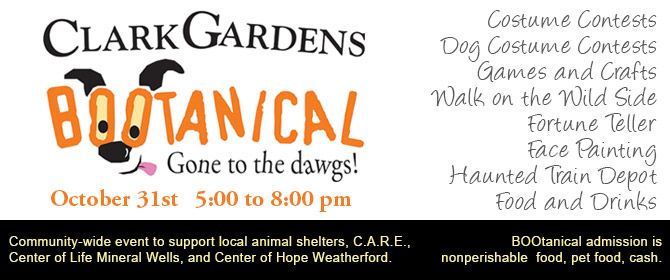 October 31st - 5:00 pm to 8:00 pm
Clark Gardens BOOtanical has "Gone to the dawgs!" On October 31st between 5:00 and 8:00 pm, Clark Gardens BOOtanical Park becomes a marvelously fun place for kids of all ages to enjoy Halloween. The BOOtanical is also a time we participate in a area-wide food drive benefiting local service organizations, food banks and anmial shelters.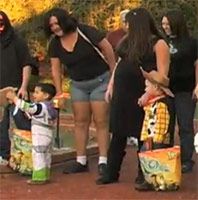 There will be:
Activities designed for children 12 and under.
Trick or Treating
Arts & Crafts
Games
Walk on the Wild Side
Fortune Teller
Ghostly Movies
Dog Costume Competition
Costume Competition for Kids and Adults
DJ Music
Food & beverages by IFC Wellness Coalition
BOOtanical Purpose
The goal of the event is three fold:
To provide a safe, fun, family Halloween event.
To help stock the local food banks' pantries and support local animal shelters.
To provide inspiration and education on nature and environmental responsibility.
Focus of BOOtanical
To be an inexpensive, safe and fun place to enjoy Halloween while learning about nature and fostering area-wide participation.
C.A.R.E - www.care4rescue.com
Center of Life - www.mwcol.org
Admission
Admission to this Halloween event is free with the donation of:
Costume Contests for People & Dogs - GREAT Prizes!

The people and dog costume competitions are a favorite among BOOtanical attendees and participants alike. In 2012 over 100 delightfully costumed people, ranging from infants to adults, participated and approximately 12 dogs were entered into the competition. Age categories have been expanded to allow for more people to participate for: 0-3 years of age; 4-6 years of age; 7-10; 11-15 and 16 and up.
The people costume competition is from 6:00 pm to 7:00 pm with the pet costume competition starting at 7:00.
We have literally "gone to the dawgs." The winners of our pet costume competition are crowned Mr. and Mrs. Barker County and Mr. and Mrs. Palo Pinto Paws County. Does your dog have what it takes to be crowned a winner of this fantastic and entertaining event? Of course there are official duties that go along with these titles including among other things attending Clark Gardens' festivals or representing the Gardens at ribbon cuttings or other important area events. Bonus points will be given to those pets that have a platform or cause they campaign for.
More Activities
Additional BOOtanical activities include games and music under the big tent, old fashioned cup cake walk, and a walk through the ghoulish garden. The G-Scale Trains will be operating out of their haunted depot. Back by popular demand is the fun, educational experience "Walk on The Wild Side." Visitors are escorted through the Garden by volunteers who light the way. Along the way, actors from the Mineral Wells High School RAM Theatre (Thespian Troupe #4607), led by Kris Allen, offer an informational and entertaining program on nocturnal animals that inhabit the garden. BOOtanical guests will be entertained by a fortune teller and Venue 2:17 will be on site selling snacks and beverages.
Thanks to Many Volunteers
Clark Gardens relies on volunteer organizations and individuals to help host this event and we are very thankful to the volunteer groups who choose to participate.
The Center of Life is helping with the children's games, the GALS sponsor the cupcake walk and C.A.R.E. (Community Animal Rescue Efforts of Palo Pinto County) will have dogs available for adoption. Other volunteer organizations include IFC Wellness Coalition and the Mineral Wells High School RAM Theatre (Thespian Troupe #4607), Mineral Wells High School Honor Society, and Tarleton State University PREM students.
Interested in Helping?
Candy and treat donations may be delivered to the Mineral Wells Chamber of Commerce. Individuals or groups interested in volunteering or sponsoring BOOtanical may contact Clark Gardens at 940-682-4856.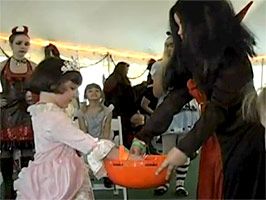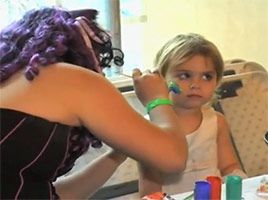 2012 Costume Contest Winners
Age 0-3
| | | | |
| --- | --- | --- | --- |
| Place | Name | Age | Costume |
| 1st | Khloe Trayal | 3 | Pocohontas |
| 2nd | Ford Denbow | 18 mo. | Monkey |
| 3rd | Ayva Wolfe | 2.5 | Snow White |
Age 4-6
| | | | |
| --- | --- | --- | --- |
| Place | Name | Age | Costume |
| 1st | Cash Britain | 5 | Caveman |
| 2nd | Maya Richardson | 4 | Mermaid |
| 3rd | Connor Penry | 6 | Zombie |
Age 7-10
| | | | |
| --- | --- | --- | --- |
| Place | Name | Age | Costume |
| 1st | Caleb Clark | 9 | Chain Saw Champion |
| 2nd | Katelyn Childres | 10 | Cleopatra |
| 3rd | Libby Richardson | 8 | Franie Stein |
Age 11-15
| | | | |
| --- | --- | --- | --- |
| Place | Name | Age | Costume |
| 1st | Daniel Boyd | 13 | Confederate Soldier |
| 2nd | Brady Huseman | 12 | Elmer Fudd |
| 3rd | Evan Cornett | 12 | Pa from Little House |
Age 16 and Up
| | | | |
| --- | --- | --- | --- |
| Place | Name | Age | Costume |
| 1st | Mary Richardson | adult | Mermaid Momma |
| 2nd | MacKenzie Ayon | 18 | Rock Star |
| 3rd | Mandy Lashbrook | 25 | Cat in the Hat |
Mr. & Mrs. Barker County
| | | | |
| --- | --- | --- | --- |
| Place | Name | Pet | Costume |
| male | unknown | | |
| female | Sweetpea | dog | Dinosaur |
Mr. & Mrs. Palo Pinto Paws
| | | | |
| --- | --- | --- | --- |
| Place | Name | Pet | Costume |
| male | Max-a-Min | dog | Little House on the Prairie |
| female | unknown | | |