Note: New Hours
Clark Gardens is a non-profit organization. Donations are tax deductible. Thank you for your support.
Happenings - Upcoming Events
Fall Photography Contest
Vote For Your Favorite
Clark Gardens will also host its 6th Annual Fall Photography Contest. Photos that are submitted will be displayed in the History House from September 23rd-October 4th, ending after our Spiciest Festival Around. This festival will be the last chance you have to see them displayed so you will not want to miss your opportunity to vote to help the creators win cash prizes. Multiple divisions this year include: Clark Gardens Photography, Non-Clark Gardens Photography, Youth Photography and People's Choice.
October 4th, 2014 - 11:00 am to 3:00 pm
The Fall Festival comes to life on the first Saturday in the month of October, from 11:00 am to 3:00 pm. The festival is day full of fun, activities and entertainment for the whole family.
The day's activities and events include:
Chili Cook-Off - Chili for Charity
Children's Activities
Beer Tasting and Pairing
Food and Beverages
Music & Entertainment
Salsa Tasting
Scarecrow Storybook Village
Shop on Vendor Plaza
Photography Contest Exhibit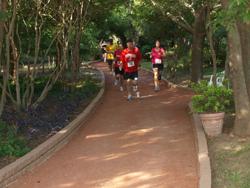 Information about the Clark Gardens annual half-marathon/5k event scheduled for October 4, 2014 is available. Online registration is open.
Each year on Saturday morning during our Fall Festival, Clark Gardens hosts a half marathon and 5K run/walk. The run starts and finishes in Clark Gardens. The race is on paved paths winding through beautiful tree lined paths both in Clark Gardens and on the Rails to Trails.
This event will happen rain or shine.
Scarecrow Storybook Village is an event to see through all of October and is able to be viewed at Spiciest Festival Around as well. This year the theme has been something everyone has been excited and talking about: Scarecrow "Storybook" Village. This village will be filled with everyone's favorite childhood storybook characters. Over twenty community organizations from all different areas have each worked together to make scarecrows of all themes from Humpty Dumpty to Captain Hook. Sit down with your family and read one of the childhood storybooks provided to experience this beautiful, fall day together. At the end of the day, family is what it is all about here at Clark Gardens.
Garden A Glow December 6, 2014
Garden A Glow
December 6, 2014
6:00 pm to 9:00 pm
Tree Trail Tour and Mobile App
Now when you walk through Clark Gardens Tree Trail you can use a mobile app of the trail, with pictures and tree IDs, as your guide.