Note: New Hours
Clark Gardens is a non-profit organization. Donations are tax deductible. Thank you for your support.
Happenings - Upcoming Events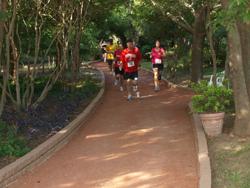 Information about the Clark Gardens annual half-marathon/5k event scheduled for October 4, 2014 is available. Online registration is open.
Each year on Saturday morning during our Fall Festival, Clark Gardens hosts a half marathon and 5K run/walk. The run starts and finishes in Clark Gardens. The race is on paved paths winding through beautiful tree lined paths both in Clark Gardens and on the Rails to Trails.
This event will happen rain or shine.
October 4th, 2014 - 11:00 am to 3:00 pm
The Fall Festival comes to life on the first Saturday in the month of October, from 11:00 am to 3:00 pm. The festival is day full of fun, activities and entertainment for the whole family.
The day's activities and events include:
Chili Cook-Off - Chili for Charity
Children's Activities
Beer Tasting and Pairing
Food and Beverages
Music & Entertainment
Salsa Tasting
Scarecrow Storybook Village
Shop on Vendor Plaza
Photography Contest Exhibit
Tree Trail Tour and Mobile App
Now when you walk through Clark Gardens Tree Trail you can use a mobile app of the trail, with pictures and tree IDs, as your guide.