Clark Gardens is a non-profit organization. Donations are tax deductible. Thank you for your support.
 

The story and a tour of Clark Gardens.

Clark Gardens Park welcomes visitors all year long. The breathtaking 35-acre oasis awakens the senses, stirs the spirit and relaxes the mind. From the first spring blossoms to the colorful fall and into the stillness of winter, there is a sense of magic. Wheelchair accessible pathways wind through lavish ribbons of color and fragrance.

Waterfalls sparkle in the sunlight, splashing down into ponds and lakes where black and white swans, along with other waterfowl, glide in the shimmering waters. You may see peacocks strutting, or get a glimpse of blue herons or great egrets swooping down, their huge wingspans casting shadows over the lakes. Join us and experience the beauty of nature, all four seasons of the year.
Bad Weather Note: Clark Gardens may close during inclement weather, including icy conditions. If bad weather is in the area, please call ahead to be sure we are open. 940-682-4856
Tour the Gardens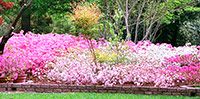 From self-guided tours to group tour programs, at Clark Gardens you will find the perfect fit for your visit. The group tour programs are great for your garden or nature club, school, church, family, business or other organization. A variety of menu options are available to compliment your trip.
See general admission and group tour information.
Visit us on a School Tour
As a member of the "
No Child Left Inside Coalition
" we strive to work with educators to introduce the youth of today to the benefits of outdoor environmental education.
Learn more about our School Group Tours
.
Garden Happenings

Hours and admission fees

Holiday Festival 2013
Dec. 20th & 21st
5:00 pm to 9:00 pm
The Holiday Festival will take place unless there is icy weather. Please call 940-682-4856 or check back here to see if the Festival will be open.
Spring Festival
March 29 & 30, 2014

Classic Car Show
March 29, 2014
register online

Motorcycle Show
March 30, 2014
register online

Easter Celebration
Easter Egg Hunt, April 19, 2014

Interactive Tree Trail Tour and Mobile App

Annual events...
Your Event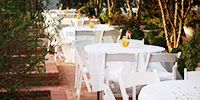 Clark Gardens Park provides a variety of rental facilities and offers many benefits that other locations do not.
With nine diverse venues from which to choose, you are sure to find the ideal place for your special event.
Whatever the occasion: garden wedding, reception, party, prom, club meeting, business meeting, family reunion, etc., Clark Gardens has the perfect venue to help make your event a success.
Check-out our venues.
Visit the
Clark Gardens Weddings website
.